Admissions
Nursery
Every child is unique and are able to thrive with the teaching and care of our early years experts. Children learn in a range of settings: whole class sessions; teacher led small group sessions and independent child led activities. At the end of the Reception year, a careful programme of transition helps children to move smoothly into Year 1 and the wider school.
Applying for a Nursery place from September 2020
Every 3 year old is entitled to a statutory 15 hour funded Nursery place. Parents many qualify for a 30 hour funding place. To be eligible for a 30 hour funding place, you and your partner (if you have one) must:
Be in work

Earn at least the National Minimum or Living Wage for least 16 hours a week or equivalent (so you could work less hours at a higher wage).

Be earning less than £100,000 a year

Have your child living with you.
To find out more about applying to our Nursery, please contact the school office staff who will be happy to arrange a time for you to visit.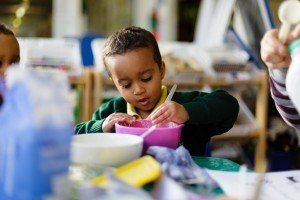 To contact the School Office:
Nursery Admissions
Flora Gardens Primary School
Dalling Road
LONDON
W6 0UD
Telephone: 020 8748 2566
Email: admissions@fgschool.uk
Applying for a Reception place from September 2020
Admissions to the Reception class, and all other classes, are controlled by the Admissions Team of the London Borough of Hammersmith & Fulham. If your child was born between 1st September 2015 and 31st August 2016, you will need to apply for a Reception place by 15th January 2020. You will need to apply online at: www.lbhf.gov.uk/schooladmissions
Even if your child is in our Nursery class, you will need to apply online for a Reception place.
If you wish to visit our school at any time throughout the year, please call the school office on 0208 748 2566 and arrange a time to meet the Head and take a tour. If you have any difficulties applying online, please come to the school office and we will be happy to help.
Applying for a place in all other year groups
If you wish to move your child to Flora Gardens from another primary school, or if your child has just arrived in the country, you will need to complete this form and return it to Admissions at the address below.
LBHF School Admissions webpage has all the information and contact details that you will need.
You can apply online – HERE
To contact the Admissions Team:
Admissions
3rd Floor
145 King Street
Hammersmith
London
W6 9XY
Telephone: 020 8753 1085
Email: school.admissions@lbhf.gov.uk
Our office team will be happy to help you complete any forms and offer advice.